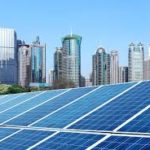 By Solar Times Bureau
GAIL is coining due diligence to take stake in ACME Solar's Solar plant. The talks are on and the stake could be between 49-74% in ACME Solar Holdings. Talks are on for finalisation of financials, according to sources.
According to sources, GAIL, previously Gas Authority of India is state owned corporation. The Corporation is exploring investments in the renewable energy sector as part of a strategy for diversification and expansion of its businesses and to create a hedge against volatility in natural gas prices which are linked to crude oil.
GAIL has already tied up with BHEL for setting up Solar power generation projects. ACME Solar has presence in 12 states for solar power generation plants. It's operational plants produce nearly 3 gigawatts of solar energy which is supplied to state electricity boards with whom it has long term power purchase arrangements some of which extend upto 25 years.