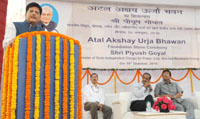 Piyush Goyal, Union Minister of State for Power, Coal, New and Renewable Energy and Mines, laid the foundation stone for Atal Akshay Urja Bhawan. The building has been named after former Prime Minister of India, Atal Bihari Vajpayee, as he laid the foundation stone for the Wind Turbine Testing Station of the National Institute of Wind Energy at Kayathar, Thoothukudi District, Tamil Nadu on 5th September, 2000.
The Atal Akshay Urja Bhawan will be the integrated headquarters building for the Ministry of New and Renewable Energy. At present the office of MNRE is located in three different building blocks at CGO Complex with its current strength of about 400 officials.
While laying the foundation stone, the Minister, while quoting the Prime Minister Shri Narendra Modi, stated that it is time that India comes out of the shadows and lead the world. Energy conservation and Renewable Energy is one area where India is soon going to be a global leader. This Government is committed to strive for this mission and light up peoples' lives in an environmental friendly and sustainable manner, Shri Goyal added.
Upendra Tripathy, Secretary, MNRE addressed the participants and mentioned that this building will provide an environment friendly atmosphere with renewable energy and energy efficiency utilization in the building. This iconic building will be a symbol of our country marching ahead to lead renewable energy revolution, he added.
This Bhawan will be an iconic landmark symbolizing an energy efficient renewable energy integrated building. It would be a state-of- the art, Net-Zero-Energy Green Building designed on the concept of Solar Passive Architecture. This interactive and use-responsive building will have an Urja pavilion showcasing Renewable Energy systems and devices.
The design of this unique building was conceived after rigorous competition among top notch architectural firms. The bhawan is to be constructed at CGO Complex Area, Lodhi Road, New Delhi.
Upendra Tripathy, Secretary MNRE, P.K. Pujari, Secretary, Ministry of Power, Shri Balvender Kumar, Secretary, Ministry of Mines and Shri Anil Swarup, Secretary, Ministry of Coal, guests from Foreign Embassies in India & Industry and other senior officials were also present during the occasion.