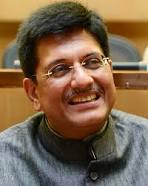 Piyush Goyal, Union Minister of State for Power, Coal, New & Renewable Energy and Mines, is on an official visit to Sweden from November 1-3, 2016 at the invitation of the Swedish Minister for Policy Coordination & Energy, Ibrahim Baylan.
During his 3 day visit ,Goyal had a bilateral meeting with the Swedish Minister for Policy Coordination and Energy,  Ibrahim Baylan. Both sides referred to the existing MoU on Renewable Energy Cooperation and reviewed the current cooperation in the energy sector and the next steps to enhance collaboration especially in waste-to-energy, energy efficiency, transmission and distribution, hydropower, electro-mobility, smart grids, smart metering, solar energy, water treatment, and mining. Both Ministers had a joint media interaction with prominent business paper Dagens Industri and Sveriges Radio.
The Ministerial delegation participated in three Round Tables on: (i) Green Financing and Investment; (ii) Smart Grid & Energy Solutions; (iii) Smart Cities, Electro Mobility and Waste to Energy; and (iv) Energy Efficient Mining and Mine automation/optimization. The Minister and the delegation also visited Atlas Copco head office and underground mine and Brista Waste-to-Energy Combined Heat and Power Plant.
The visit epitomised the mutual interest in strengthening the all-round bilateral relationship between India and Sweden on the basis of solid groundwork laid by the first ever State Visit of President Pranab Mukherjee to Sweden in 2015 and the visit of Prime Minister Stefan Lofven to India in February 2016 for the Make in India Week in Mumbai.
The official delegation included senior government officials from the Ministry of Power, Ministry of New and Renewable Energy and a large business delegation and representation from CII and FICCI.