Read Time
1 Minute, 18 Second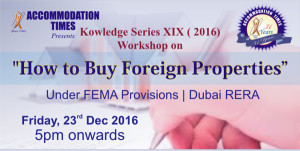 Introduction
Buying and investing properties abroad like in Dubai, Gulf, London, Australia etc is very lucrative propositions. But to buy properties on foreign land requires RBI and Enforcement Directorate permissions under Foreign Exchange Management Act. Ignorance of Law is not an excuse.
One must know the limit of remittance in foreign exchange per financial year, documents, repatriation norms, FEMA provisions, capital gain taxes, disclosure in Income Tax returns etc besides Foreign Law and regulations.
Dubai and Gulf being a destination where most of the Indian are lured to buy but there are two type of properties. Lease Hold and Free Hold properties. Visa is permanent but its not permanent residence permissions. One must know the liabilities and duties, maintenance cost, recurring cost, Stamp Duty, rental yields and capital appreciations, about the builder who is offering properties. It is reported that not all builders are having good reputation.
Before you or you client purchase properties on foreign land, you must see the rules and regulation, violation of which can attract penalties and prosecutions
For Whom :
All those who are looking to buy properties
land
FSI on foreign land
Investors
Brokers
Builders
CAs
Lawyers
Finance Consultants
and CFOs
Deliverable :
Notes from Speakers
PPTs
High Tea
One year Subscription of Accommodation Times
Other Details:
Day & Date: Friday, 23rd Dec 2016
Timing :5 pm Onwards
Venue: Juhu Jagruti Auditorium
Address: Mithibai College, Vile Parle W, Mumbai
In case of queries, please email us at roshni@accommodationtimes.com or Call: 9167998383
Registration end on 21st Dec 2016 at 4 pm) No Spot Booking accepted.