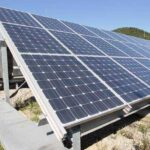 By Fiona Mehta
One of only 10 floating solar plants in the world, the Floating Solar Project on Narmada will be constructed on the backwaters of the Omkareshwar Dam. The 600 MW-capacity facility will be the biggest solar installation ever constructed on water. It is said to be the world's largest floating solar plant, the project is estimated to be worth over Rs. 3000 crores.
According to Chief Minister Shivraj Singh Chouhan, "Madhya Pradesh's renewable energy potential will be 20,000 megawatts" by 2027. "The state government is working to make Madhya Pradesh both the heart and the lungs of India. In order to achieve all of India's obligations and the Panchamrit Mantra, which Prime Minister Narendra Modi announced at the Glasgow Conference on Climate Change, Madhya Pradesh would do everything within its power "declared Shivraj Singh Chouhan.
People wouldn't be relocated because no land is required for the project, the chief minister continued. "The water won't evaporate as steam since solar panels have been installed on the lake's surface. This will save between 60% and 70% of water. This is equivalent to 124 days' worth of drinking water for residents of Bhopal " he added.
Additionally, Mr. Chouhan stated that the plant's installation would lessen algal growth and maintain the water's potability. The project, according to the government, will prevent the emission of 12 lakh metric tonnes of carbon dioxide, which is "equal to planting one crore 52 lakh trees."