By Solar Times Bureau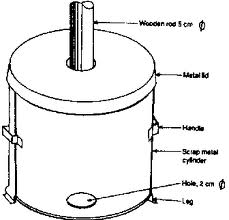 The Ministry of New and Renewable Energy (MNRE) is promoting and formulating biomass cook stove for domestic use at an effective cost. MNRE has implemented National Biomass Cook Stove Programme (NBCP) in the 12th Plan Period. The ministry's aim in implementing the programme is improvement in biomass cook stove, this cook stove will be utilized for domestic and community cooking applications on cost sharing basis.
The programme is projected for undertaking project demonstration, improving the quality of cook stove, different grades of process biomass fuel, all this will result in upgradation of technology development, biomass processing and delivery models.
Further, in the programming ministry has organized three test centers to regulate quality and performance testing of improved biomass cook stoves in order to maintain the quality of products. The products which are approved in the testing process and by MNRE will only be considered in the demonstration programme.
As follow up to the National Biomass Cook stove Initiative (NBCI) which was launched by Ministry on 2nd December, 2009, pilot scale projects have been taken up for demonstration of improved biomass cook stoves for domestic cooking.
The pilot projects have been taken up in the states of J&K, Uttar Pradesh, Bihar, Madhya Pradesh, Jharkhand, Chhattisgarh, Karnataka and Odisha. The programme will cover all the states in the next phase.
State-wise targets for pilot scale demonstration of different models of improved biomass cook stoves for domestic cooking. 
| | | |
| --- | --- | --- |
| Sr. No. | States | Number of Cook stoves |
| 1 | J & K | 3000 |
| 2. | Uttar Pradesh, Bihar and  Chhattisgarh | 3000 |
| 3. | Madhya Pradesh, Bihar, Orissa, Chhattisgarh and Karnataka | 3000 |
| 4. | Jharkhand, Bihar and Orissa | 3000 |