By Solar Times Bureau.
The project is to set up a 54 MW wind farm plant at Jaisalmer district costing Rs. 360 crore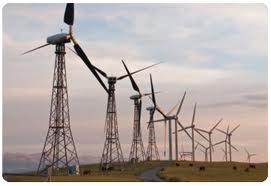 Industries are going green these days; their approach towards renewable energy is increased recently, as benefits of renewable energy are ample and this gains them green image and they also gain carbon credits and government sops. Northeast explorer Oil India Ltd. is recently implementing a new project on wind energy, in order to generate power and supply to the state utility grid.
The project is to set up a 54 MW wind farm plant at Dangri in Rajasthan's Jaisalmer district costing Rs. 360 crore. The company is going to supply the power, generated from the wind power stations to the state utility grid at the cost of Rs 5.16 per unit; this will support the state utility to satisfy the power needs of the state people, in a green way.
Oil India Ltd. had entered in the renewable energy sector since last year by projecting a 13.6 MW wind power station in the state. They are also implementing projects on solar energy; their approach towards solar energy was commenced with the set up of solar plants of 100 KW each at Jaisalmer and at home state of Assam.
Energy companies opting for renewable energy is in trend now-a-days, recently many oil and power companies have projected wind power stations for personal utilization of the company or for supplying the power to grid for public utilization. Previously the companies use to utilize the power for personally only but, now the trend of supplying to the grid is immerged within companies.
The trend was started with ONGC Ltd. for diversifying into renewable energy with an estimated cost of Rs 650 crore plan. Its first unit of 51 MW at Bhuj last June earned 121,207 carbon credits from the UN body on climate change for.
State-run generation NTCP too has a corporate plan to produce 650 mw wind power as part of a strategy to add 1,000 MW generating capacity from renewable sources, including 650 MW from wind farms. Other companies are also getting addition to the list of opting for renewable energy e.g. GAIL and IOC.