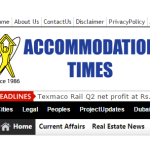 About Accommodation Times
Visit: www.accommodationtimes.com
Newspaper
Accommodation Times is India's first and oldest fortnightly newspaper on Real Estate and Property. The paper has an identity as a historian coming across the ups and downs of the sector, acquiring a huge database and information on every aspects of the trade and industry. The paper has a wide reach to trade associations, government agencies and the who's who of the sector.
Since 1986, the paper has been quoted by various media, courts, government authorities, PSUs and professionals for proving their points and research. It reaches every fortnight in the hands of flat purchasers, NRIs, investors, builders, architects, interior decorators, government departments, brokers and trade professionals. It is read thoroughly by finance seekers, brokers, NRIs, MNCs, corporate and all the trade associations throughout India. Visit www.accommodationtimes.com
The Maharashtra Co-Operative Society Times is a monthly publication which, as the name suggests, deals with rules and laws pertaining to Co-operative regulations in the state of Maharashtra and is a part of Accommodation Times.
Research
Accommodation Times with its wealth of experience in the Real Estate sector has accumulated over the years a plethora of information. This ranges from taxation, customer relations management, numerous demand assessment reports, environmental impacts and housing finance among others. It assesses the sector from both a macro and a micro magnitude in order to provide a holistic understanding of not only the housing industry and but also its allied activities. Details of reports are available on the website.
Institute
Real estate is mega crore industry to-day, which is transforming fast and hence needs large number of professionals well versed in the Real Estate Management. The newest requirement of the industry is large number of trained professionals in Real Estate Management. Accommodation Times Institute of Real Estate Management (ATIREM) has launched a indepth yet comprehensive course to make you a through professional in this high volume turnover industry.
The Course : It is a full fledged six months course, correspondence and field orientation, and will cover the entire Real Estate realm. This includes development construction, Real Estate Marketing, Legal Aspects like Land Records, Stamp Duty, N.R.I. Investments, Rent Act, Co-operative Society Regulations, procedures with various Government and Municipal departments, systems and administrative procedures, estate management and co-ordination between various segments and services in the Real Estate industry.
ATIREM provide access to indepth knowledge about each and every aspect of development and property market through this course.
Events
Accommodation Times, including Accommodation Times Institute of Real Estate Management, plays host to numerous events throughout the year. The events see a collection of experts on burning issues under one roof discussing trends, impacts and future prospects. The astute learned faculty which varies from event to event provide their expertise and knowledge thorough their minute analysis.
Awards
Accommodation Times recognises the efforts by various developers who have excelled in their field. The ranges of awards are varied from achievements, marketing, legal aspects, commercial and residential projects, redevelopment projects, townships, social contributors, mass housing, corporate governance, SEZs and architects. We rummage through the length and breadth of the country to find projects that deserve their due recognition. The Awards ceremony is an annual function and has been a huge success over the years.
Books
Accommodation Times is a library in itself. Accommodation Times has published numerous books on Co-operative Housing Society, legal aspects, taxation and research reports among many others. They provide a comprehensive reference to the happenings in the real estate sector and is must for anyone involved in the sector. Contributions have come infrom noted advocates associated with the field as well. Please visit the website to browse through more than a hundred titles.